While doing some keyword research for chocolate trends, I noticed chocolate recipes has over 2 million searches while having a low competition rate, as shown below –
Thought this might have some potential for a website to make money from advertisements and chocolate affiliates for anyone who loves chocolate and would like to create a website around it.
Chocolate recipes looks to be a good niche so far.  It could be beneficial to tighten the niche a bit more.  What specifically about chocolate recipes are these people looking for?
This what was found after clicking into Google Trends for this key phrase –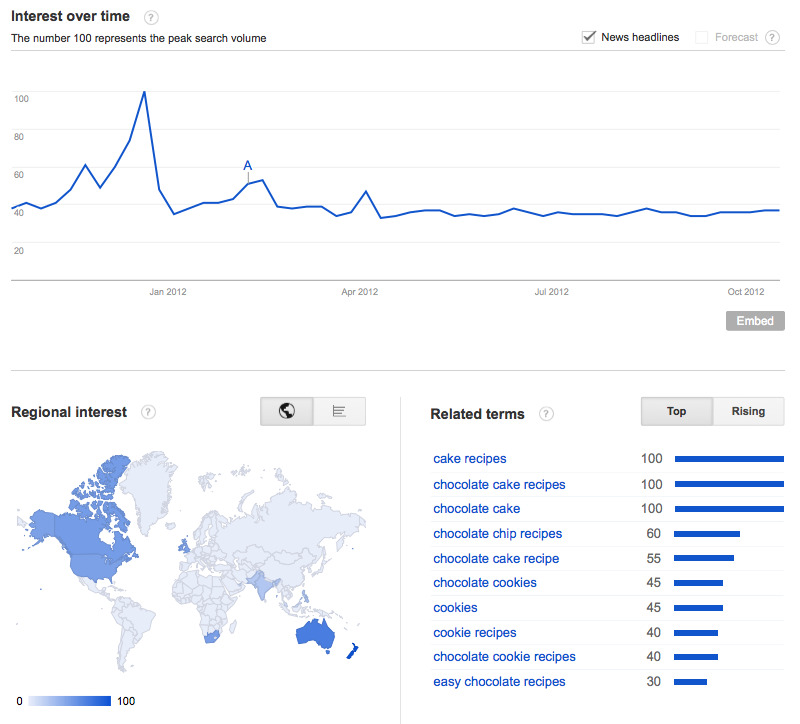 As seen, people are mainly looking for chocolate cake and chocolate chip cookie recipes, but mostly chocolate cake.  Especially around the year end holidays.  This can be an ideal tight niche website to make money online.
Attract visitors with a constant, steady stream of content not only with chocolate cake recipes, but post various news articles through manual searches and create Google Alerts for various keywords.  "Chocolate molds" key phrase has about 90,000 hits every month, write some posts for creative cake mold ideas.
When you do write up an original article, search for other chocolate or baking related blogs that are more established and have a high amount of readers.  Ask if you could contribute your article as a guest blogger.  If approved, your post will have a link back to your site and will attract this mass readership without doing other painstaking, low producing marketing techniques.
For money generating ideas, you could place an ad or two from Google Adsense and also join chocolate affiliates, posting their banner ads at top or on your sidebars, such as Lindt Chocolatiers.
Lindt has a huge volume of searches – 550,000 per month worldwide.  And they do have an affiliate program through Commission Junction.
Could also be an affiliate for 10 lb chocolate bars! With chocolate, the options can be many.  Find more options and test which ones produce results and also test the amount of ads that work without your site looking too spammy.
There are choices of free website templates out there, I'm a big fan of WordPress websites for their user friendly nature, being able to add features with their endless variety of plug-ins without having to have an extensive knowledge of coding, plus their designs are pleasing to the eye.  You browse their free sites at WordPress.com or click on the link below this post to view some unique, professionally designed sites at StudioPress.
Hope this works out for you, best of luck!